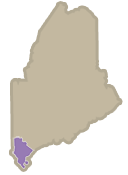 Other Regions
Explore Maine by Region - The Maine Beaches
Maine's Southern Coast is famous for vast expanses of white sandy beaches, quaint coastal towns and impressive cultural offerings. Travelers here also have a variety of choices for exploring this popular region - from town trolleys to the Downeaster's sleek passenger train - there is no shortage of comfortable transportation options.
Photos
Air Travel
Sanford Regional Airport (KSFM)
The Sanford Regional Airport is located in southern Maine in York County. It is just 12 miles west of I-95, 35 miles from the culturally-diverse cities of Portland, Maine, and Portsmouth, NH, and only 90 miles north of Boston. The airport has a 6,000 foot and a 5,000 foot lighted runway, an ILS, and is capable of handling all executive, charter and freight aircraft.
Website | 207-432-0596
Biking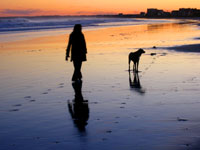 Maine Beaches by Bike
Spectacular coastal scenery, expansive sandy beaches and charming New England villages mark the Southern Maine Coast. Cyclists will travel through the historic coastal towns of Wells, The Kennebunks and Old Orchard Beach.
Bus Transportation
Car & Driving

Explore Maine by Car
Sometimes, the only way to get to your destination is by car. In fact, some of the most beautiful and remote areas of the state can only be reached by driving. Make the most of the ride by traveling along one of many scenic byways that wind through the state. And if you need directions or lodging along the way, checkout our information on Maine's Visitor Information Centers.
Ferry Service
Sorry, no listings for this travel mode