Explore Maine by Train
One of Maine's original and most historically-rich transportation modes remains a reliable, economical and comfortable travel option today.
Downeaster, The
Amtrak's sleek, new passenger train serving Northern New England, provides four round trips daily between the Portland Transportation Center and Boston's North Station, with eight stops in between.
Website | 1-800-USA-RAIL - Train info | 207-780-1000 - Office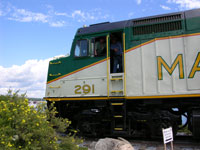 Maine Eastern Railroad
Scenic Excursions: Come aboard our restored vintage railcars for a carefree journey through the spectacular scenery of mid-coast Maine, between Brunswick and Rockland.
Website | 1-866-637-2457