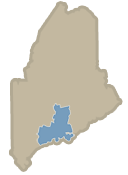 Other Regions
Explore Maine by Region - Mid-Coast Maine
Along the Mid-Coast, travelers can expect to enjoy all of what has made Maine famous: panoramic water views, lighthouses and lobsters. Likewise, the transportation options in this region are equally impressive - from visiting the islands by ferry, to exploring towns and villages by bus or trolley.
Photos
Air Travel
Knox County Regional Airport (RKD)
Knox County Regional Airport is situated on the Rockland coast. It provides air access for passenger and cargo to the islands, as well as commercial passenger service to Boston, and other Maine locations.
Website | 207-593-9323 or 207-594-4131
Wiscasset Airport (KIWI)
Wiscasset Airport is a public-use airport located three miles southwest of the central business district of Wiscasset. This general aviation airport is publicly owned by Town of Wiscasset. It is currently not served by commercial aircraft, though scheduled air service was once available on Downeast Airlines.
Website | 207-449-3172
Biking
Mid-Coast by Bike
Cyclists touring the Mid-Coast region will enjoy graceful water views and picturesque fishing villages, along with a wealth of arts and entertainment offerings, historic lighthouses, museums and galleries.
Bus Transportation
Car & Driving
Coastal Trans Inc (CTI)
A private, non-profit corporation providing demand response public transportation to Knox, Lincoln, and Sagadahoc Counties, as well as the towns of Brunswick and Harpswell in Cumberland County, and a commuter service from Rockland to Bath Iron Works.

Explore Maine by Car
Sometimes, the only way to get to your destination is by car. In fact, some of the most beautiful and remote areas of the state can only be reached by driving. Make the most of the ride by traveling along one of many scenic byways that wind through the state. And if you need directions or lodging along the way, checkout our information on Maine's Visitor Information Centers.
Ferry Service
Train Travel
Sorry, no listings for this travel mode