Commuter Service Providers in Maine
Select a region from the tabs below to view commuter service options in that region
Aroostook County
Downeast and Acadia
Greater Portland and Casco Bay
Kennebec and Moose River Valleys
Maine Lakes and Mountains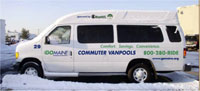 GO Maine Commuter Connections
This free commuter assistance program provides services to commuters who live, work, or travel throughout the State of Maine. Emergency Ride Home Guarantee.
Website | 1-800-280-RIDE (7433)
Western Maine Transportation Services WMTS
A private, non-profit corporation that provides public transportation in Androscoggin, Franklin and Oxford Counties. Fixed route bus service in Lewiston-Auburn. Seasonal fixed route bus in the Bethel-Newry area – Mountain Explorer. Commuter service from Lisbon to Lewiston – Lisbon Connection.
Website | 1-800-393-9335 \ TDD: 1-800-851-3191
Mid-Coast
The Maine Beaches
Sorry, no listings for this region