Bus Transit Services in Maine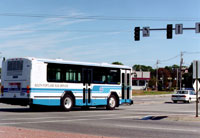 It's easy to reach Maine — and explore Maine — via bus. The state's extensive bus network includes national inter-city lines as well as a wide variety of city and regional bus lines providing local and inter-city service. Many recreational areas are served by free shuttle bus and trolley services. And four "Explorer" buses operate in key Maine recreational areas including: Mt. Desert Island and Acadia National Park, Sugarloaf Mountain, Oqunquit and Kennebunk, and Bethel. Visit the following providers for more information:
Buses, shuttles and carpooling services also provide commuters with numerous options to help them reduce their reliance on personal vehicles. All in all, bus travel in Maine is a reliable and convenient way to go.
Your Bus Transportation Options Include: