ADA Transit Service in Maine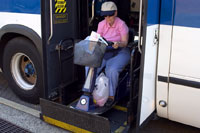 Click here to jump to provider list
All transit providers in the State of Maine provide service in compliance with the Americans with Disabilities Act (ADA). This service is provided in three different ways depending on the nature of the service:
demand response
route deviation
complementary paratransit
Note:
All remaining transit providers in the State of Maine, not listed below, offer either demand response services or route deviation. All transit providers contact information is located on this website or is available by calling the Passenger Transportation Office at 207-624-3250 or by mail to MaineDOT, Office of Passenger Transportation, 16 State House Station, Augusta, ME 04333-0016.
Maine ADA Transit Providers
Select a region from the tabs below to view ADA transit options in that region.
Aroostook County
Sorry, no listings for this region
Downeast and Acadia
Sorry, no listings for this region
Greater Portland and Casco Bay
Kennebec and Moose River Valleys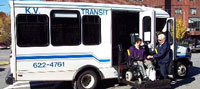 Kennebec Valley Community Action Program (KVCAP)
Kennebec Explorer: Provides public flex-route bus service in Augusta, Hallowell, Farmingdale, Gardiner, Waterville and Fairfield. Somerset Explorer: The Somerset Explorer flex-route general public bus service is operating in lower Somerset County. KV Van: Provides demand response, door-to-door paratransit van and volunteer driver transportation program. Eligibility requirements may apply.
Website | 207-622-4761
Maine Lakes and Mountains
Mid-Coast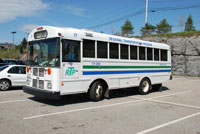 Regional Transportation Program (RTP)
A private, non-profit corporation that provides public transportation services in Cumberland County. RTP provides door-to-door service utilizing agency buses and vans, volunteer drivers, and the family and friends reimbursement program for MaineCare eligible appointments, and also provided commuter service to BIW.
Website | 207-774-2666 | 1-800-244-0704
The Maine Beaches
Sorry, no listings for this region
The Maine Highlands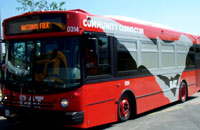 Community Connector
The Community Connector is a fixed route public transit system operated by the City of Bangor for the communities of the Greater Bangor Urbanized Area. These include Bangor, Brewer, Veazie, Orono, Old Town, and Hampden. Community Connector also provides service to the University of Maine.
Website | 207-992-4670
LYNX, The
Operated by Penquis CAP, a non-profit corporation that provides demand response transportation services in Penobscot and Piscataquis Counties. The LYNX provides transportation for the general public, special services for the elderly, MaineCare recipients, social service clients by agency contract, and ADA complementary paratransit for Bangor?s BAT Community Connector.
Website | 207-973-3695 | 1-866-853-5969