Charter Air Travel Service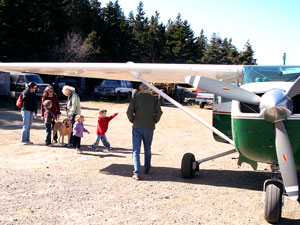 The old Maine adage, "you can't get there from here," just isn't true anymore. With an airport in every region of Maine, Air Taxi and Charter providers can get you to your destination quickly and easily. Enjoy bird's eye views of Maine's rocky coastline, pristine lakes and quaint villages, while your pilot transports you to your destination. Air Taxi and Charter services provide the speed, reliability, privacy and flexibility not found in any other mode of transportation. A variety of executive jets, from large luxury jets to light jets and turbo props are available with one phone call.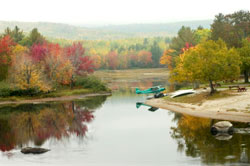 Privately Owned Air Travel Service
Charter services for custom travel are also available throughout the state. For visitors and business travelers alike, air travel in Maine is both fast and convenient, offering a bird's eye view of mountain and coastal scenery that's simply breathtaking. To reach Maine's remote recreational and wilderness destinations, air travel, either by seaplane or airplane, is often the best choice.
Charter Air Service Listings
Select a region from the tabs below to view charter air service options in that region, Or, visit www.airnav.com for a complete listing of all airports in Maine.
Aroostook County
Houlton International Airport (KHUL)
Houlton Air Taxi Origin On a visit to Southern Aroostook County, you will find more than you imagined. This rural treasure trove harbors bits of history, acres of wildness, intriguing eateries, and an array of events, all spread throughout some of the most beautiful terrain to be found in the northeast.
207-532-7111
Northern Aroostook Regional Airport (FVE)
Northern Aroostook Regional Airport is a small airport in Frenchville supporting charter and private aircraft only. The history of Aroostook County is rooted in its vast natural resources. The great wilderness area of western Aroostook comprises two-thirds of the county. Eastern portions of Aroostook County are dominated by wide open spaces of farmland that produce potatoes, broccoli and peas, among other crops. Aroostook County also serves as an outstanding recreation area with more than 2,000 lakes, streams, rivers, and ponds covering some 80,000 acres...
Website | 207-543-6300 | 877-543-6300
Downeast and Acadia
Greater Portland and Casco Bay
Sorry, no listings for this region
Kennebec and Moose River Valleys
Maine Lakes and Mountains
Mid-Coast
Knox County Regional Airport (RKD)
Knox County Regional Airport is situated on the Rockland coast. It provides air access for passenger and cargo to the islands, as well as commercial passenger service to Boston, and other Maine locations.
Website | 207-593-9323 or 207-594-4131
Wiscasset Airport (KIWI)
Wiscasset Airport is a public-use airport located three miles southwest of the central business district of Wiscasset. This general aviation airport is publicly owned by Town of Wiscasset. It is currently not served by commercial aircraft, though scheduled air service was once available on Downeast Airlines.
Website | 207-449-3172
The Maine Beaches
Sorry, no listings for this region
The Maine Highlands