Resources
Other Bus Services
Demand Response Bus Service in Maine
Demand Response providers offer "door-to-door" services. Most require a one-day or two-day advance reservation. In addition to client services, most programs also offer transportation that is available for anyone who needs a ride.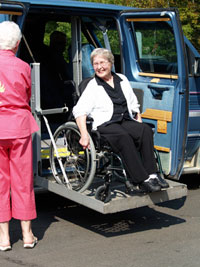 Volunteer driver programs allow concerned individuals to help their neighbors by offering rides in their private cars. Drivers are trained and certified by the sponsoring agency, and are reimbursed for costs based on the miles they travel. Rides are arranged in advance. Usually a one- or two-day advance reservation is required. This service is offered to Medicaid patients and social service clients who are unable to use regular public buses, or where other bus and van service is not available.
All public transit providers in Maine are accessible and meet ADA guidelines. If you need special accommodations, please call your local provider.
Maine Demand Response Bus Providers
Select a region from the tabs below to view demand response bus options in that region